Not So Fine Art (you only think it's an original Campendonk)
I'm not a huge Steve Martin fan, but I like him well enough.
As celebrities go, he's got talent: he can be very funny, he's a decent writer, and he's a star banjo player. Plus he pretty much keeps his nose clean. Take that, Kardashian sisters!
So if I were going to have any sympathy for anyone who's been a caught up in an art forgery scandal, it would be Steve Martin.
Not that he's a direct victim.
Martin bought the painting for €700,000 at the Cazeau-Béraudière Gallery in Paris and sold it at a Christie's auction to a Swiss businesswoman for €500,000.
It was sold at a loss before it was debunked as a forgery, so I guess you can say that it was a bad investment before it became a worse investment. The work in question is "Landschaft mit Pherden," (Landscape with Horses) by Heinrich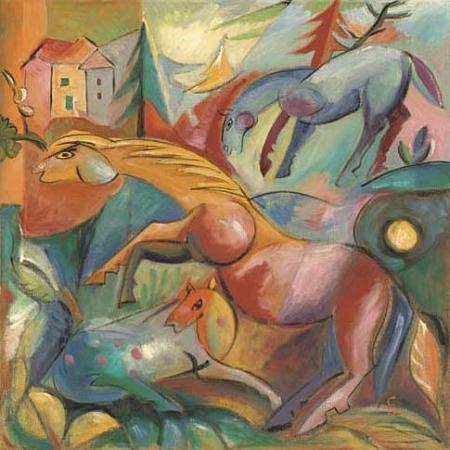 Campendonk, one of the lesser figures in [I took a course in Modern Art pretension alert] Der Blaue Reiter school. I actually kind of like the painting, although if I were going to go in for something by one of Der Blaue Reiter artists, I think I'd prefer something with a touch more blaue in it. (Info and picture source: Huffpo.)
Investigators said that the painting was most likely created by Wolfgang Beltracchi, the accused leader of a forgery ring that included his wife, sister-in-law and another accused forger Otto Schulte-Kellinghaus. Beltracchi's forgery ring is suspected of producing paintings attributed to Campendonk, Fernand Léger, Max Ernst and others.
The family that forges together…
The forgers weren't just skilled painters, they were also pretty darned good at working out fake provenances. Which I suppose you'd have to be if you really wanted to make a go as a forger. After all, you couldn't keep showing up at Christie's saying you found something in your grandmother's attic gathering dust.
All this is part of a large and involved forgery scandal that's been wreaking havoc and causing panic in the art world since last year.
More than 30 paintings, thought to be by artists including Max Ernst, Raoul Dufy and Fernand Léger, have been unmasked as forgeries, the Observer has learned. The fakes have duped leading figures in the art world into parting with at least £30m… The forger's strategy appears to have been to create compositions that would relate to the titles of documented works whose whereabouts are not currently known. (Source: The Guardian.)
Gallery owners, auction houses, collectors and the "experts" who've vetted the fakes have to be shaking in their bespoke boots over this. Apparently forgery scandals are nothing new, yet the stakes keep getting higher and higher as the prices of art works get bid up.
It does get me thinking about just what a curious "profession" art forger is.
You have to have some technical skill to pull it off, so what prompts someone to become a forger, rather than an artist?
Are they artists manqués with some technical capabilities but lacking creative vision of their own? Do you just wake up one day, throw off your beret, toss down your own palette, and decide that there's more money in being a fake Heinrich Campendonk than there is in being the real you?
Or are you one of those with larceny in the heart to begin with, and figure that you've got a steady enough hand, were always pretty good at paint-by-numbers, and that the forgery business is safer than bank robbery or home invasion.
However pissed off an art gallery owner might be, they're unlikely to shoot at you.
It also got me thinking about the intrinsic value of any work of art. But the intersection of mammon and the aesthetic is way, way, way too intense and brainy for the likes of Pink Slip.
Like most of those who like to have something on the wall, but don't have a bottomless bank account, what's on my walls are things that I like. And that includes works by Betsey Nelson, who happens to be my sister-in-law. (I don't have any of her Southwest-themed works; I have two still lifes.)
It also includes several paintings done by guests of St. Francis House, New England's largest day shelter for the poor and homeless. These are wonderful works for which I have paid a pittance to artists who are just happy to have their work and its worth (and their own worth) recognized and acknowledged.
I've also got paintings and prints that I've picked up on my travels. And even some posters. (Nothing like a $200 frame to make a $10 poster look like a work of art.)
None of the art works that hang in my home are ever likely to sell for $2.8M at auction at Christie's, but I can sleep well at night knowing that there are no forgeries among them, and that each one is, to me, worth far more than every penny I paid for it.
Labels: culture