Don't know how I missed all this hoopla when the news started to break a couple of months back, but – thankfully – I tripped upon Jesse Singal's post on boston.com. And one thing led to another, so now I'm fully in the know about the Fiesta Bowl contretemps.
Singal approached the story through the lens of the University of Connecticut's Fiesta Bowl experience.
For those who don't follow sports, UConn, not satisfied to have the world's best women's college basketball program, as well as its own pre-professional men's basketball team, decided a while back that it wanted to play big-time football.
Boston College's efforts aside, there's something about big-time college football and New England that just don't seem to mix.
College football around here is, mostly, deciding at the last minute on a sunny fall Saturday that you wouldn't mind watching some student athletes in action. Thus, you set off to get a last minute ticket at Harvard, Holy Cross, Tufts, Amherst, Bowdoin, or whatever school is close by. You bask in the stands – there's always plenty of room for your party to spread out – and enjoy a hot dog and a coke, while watching a bunch of young men who aren't much bigger than their fellow-students play football, and a couple of dozen band nerds in blazers play the school's fight song.
The type and caliber of play, while not exactly quaint, would be recognizable to Amos Alonzo Stagg, Walter Camp, and Knute Rockne as sport as played by student-athletes, not ATHLETE-students. (Wink-wink, nudge-nudge on that student bit.)
But there's gold in the hills of Division 1-A football. Plus, as has happened in the case of Boston College, marketing opportunities to extend your brand and become a "destination college." Rather than continue to languish as the mostly commuter school for Boston Irish boys that BC was when I was a girlio.
So UConn wants in.
Of course, in order to make gold, you have to spend gold, and UConn dropped $1.6 million worth of the coin of their realm to appear in the Fiesta Bowl last January. Where they got their helmeted heads handed to them by the University of Oklahoma, which has a far longer and more illustrious football tradition than UConn will ever hope to have.
The UConn Daily Campus put the university's loss a bit higher – $1.8M – and blamed most of it on UConn's inability to sell the tickets it had been allocated.
By far the largest expense the university incurred came from absorbed ticket sales. The university sold only 2,771 out of an allotment of 17,500 tickets, resulting in the university absorbing 14,729 tickets worth $2,924,385.

That expense completely soaked up UConn's revenue allotment of $2.5 million from the Big East all by itself. UConn's losses were then further inflamed by the costs of travel, meals, lodging and other bowl expenses.
The lack of interest in traveling to watch the local boys make goods is one of the knocks on big time New England college football.
Fans who have no problem flying to Baltimore or Toronto to watch the Red Sox play, apparently don't jet off to North Carolina to watch Boston College play Wake Forest. Or to Arizona to watch Oklahoma cold-cock UConn. (On football weekends, I can always tell who BC is playing by the packs of out-of-town fans touristing around on game-morning. Bright orange paw prints? Clemson's in town. Jackets with an Indian on them? The Florida Seminoles are here.)
The money that UConn dropped floated in to the coffers of the Fiesta Bowl, a non-profit organization whose purpose is to organize and promote the Fiesta Bowl.
Now, I'm one of those odd-balls who think that a non-profit should be performing some charitable, educational, cultural, medical, research, or other at least nominally lofty-purpose function. But somehow the Fiesta Bowl's purpose, at least to me, seems to be getting a bunch of ATHLETE-students together for a big, "important" televised football game, bringing well-heeled fans to Phoenix to spend money, and flogging Tostitos, crisply proud sponsor of the Fiesta Bowl.
I may, of course, be missing something crucial in this brief summary. But why the Fiesta Bowl gets to operate as a non-profit "charity" completely eludes me.
Especially when we learn how the Fiesta Bowl has been husbanding its resources.
Among its other hijinks, Fiesta Bowl had its employees make political contributions, for which they were reimbursed using some sham bonus scheme. Fiesta Bowl CEO John Junker and his wife got back the $4,200 they contributed to John McCain. I guess you can't expect someone who makes a mere $600K/year to shell out that kind of money to support a politician he believes in. (Quick: Do you think that John Junker had a picture of himself, smiling arm and arm, with John McCain prominently displayed in his office. Quick: yes/no.)
The report  [commissioned by the Fiesta Bowl board to investigate matters] highlighted several trips to Chicago, Boston and elsewhere that the Fiesta Bowl hosted for several Arizona politicians and their families. Anthony Aguilar, the Fiesta Bowl's director of community and corporate relations, told investigators that the trips were meant to show legislators the importance of college football to the Arizona economy. (Source, here and following: NY Times.)
One Arizona state legislator – the one behind the state's anti-immigration law – was the recipient of those swank trips to Chicago and Boston for his family. In Chicago, they stayed at the Ritz. That'll show 'em the importance of college football to the Arizona economy.
A prime beneficiary of Fiesta Bowl largesse was, not surprisingly, CEO John Junker.
Junker was the one flashing the card for a $1,200 strip club visit:.
According to the report, Junker explained to investigators: "We are in the business where big, strong athletes are known to attend these types of establishments. It was important for us to visit, and we certainly conducted business."
This response may well have been crafted by the same spin-meister who came up with Senator Larry Craig's "wide-stance" story.
I don't want to be a "looks-ist" here, but does anyone have a problem picturing this guy at a strip club? Oh, I'm sure he averted his eyes from the "dirty" parts and focused on conducting good, clean business. Just the way that big, strong athletes would have wanted it done on their behalf.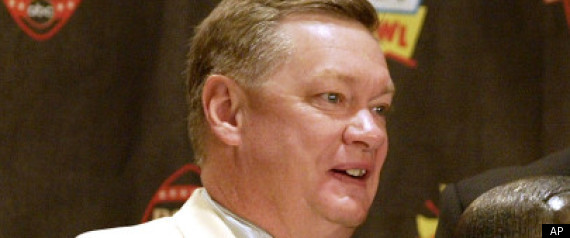 But for Junker it wasn't all strip-club fun and games, and smile-for-the-camera opps with politicos.
After his daughter got into the University of Texas honors program, he had the Fiesta Bowl send a $75 bouquet to the program's admissions director. I guess you can't expect someone who makes a mere $600K/year to shell out that kind of money for posies.
And Fiesta Bowl-types apparently like to party-hearty.
The organization paid for the honeymoon for Junker's assistant, and sprung for Junker, his family, and several other employees to attend her wedding.
Then there was John Junker's 50th b-day bash. The shindig in Pebble Beach set the "charity" back $33K.
No wonder they're a non-profit.
All this may result in the Fiesta Bowl losing its tax exempt status – aw, that seems awful harsh, don't it? – and/or criminal charges. The Fiesta Bowl may also lose its prized position as one of the "important" bowls, that have some relevance when it comes to picking the national college football champion. (Yawn.)
The immediate impact is that John Junker was fired by the Fiesta Bowl. (The COO and VP of Marketing "resigned.")
Wonder how many of his good ol' politician buddies are taking his calls these days.