Cold mouse hand, warm (mouse) heart
I was grazing around Huffington Post, tempting fate but deliberately trying to avoid all contact with articles on last weekend's shootings in Tucson  - which we can only hope is the nadir point in American political life for the decade -  when I came across a roundup of what someone at HuffPo felt were the worst products to come out of the recent Consu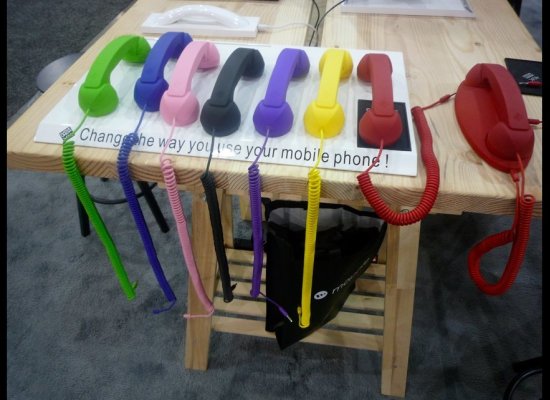 mer Electronics Show (CES) in Las Vegas.
Although I did rather like the funky colored, though completely unneeded, headsets for cell phones, most of HuffPo's worst of CES didn't strike me one way or the other.
But I did wonder as I wandered about the heated mouse pads.
This, I guess, is a solution to the cold hand on the mouse problem that I didn't realize we had.
But then, of course, I went to The Google and, sure enough, there are any number of warming mouse and mouse pads on offer out there.  These range from the good for the professional office ones I found at HeatedMouse (there really is a URL for everything, isn't there?),  to the more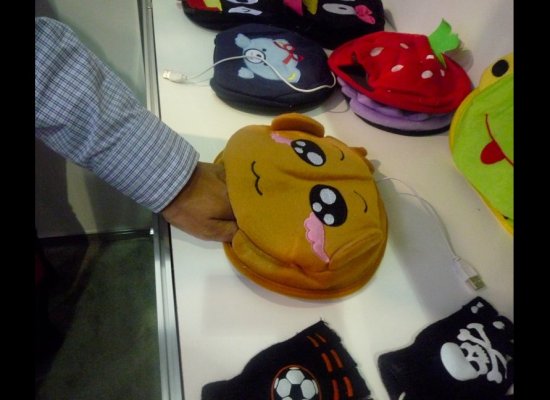 whimsical ones that were on display at CES, which, as you can see, included a monkey, a Jolly Roger, and a strawberry. Okay, that frog sticking its tongue out is admittedly kind of cute. But do we really need special-purpose products to tend to a hand that might get cold while using a computer.
This is actually a condition that I'm quite familiar with.
My home office is cold. Really cold. There's an electric heater on the wall under my desk, but when it's on, my home office gets hot. Really hot. So I only flip it on to take the chill off when the office gets cold. Really cold.
Because my home office is cold. Really cold. I do sometimes get a cold mouse hand.
And, over the years, I've developed a couple of work-arounds that keep my fingers pliant and toasty warm, and that save me from having to buy a mouse warmer to keep my mouse in.
Wear mitts. Sure, it's a tad bit Louisa May Alcott, but, as I type, I am wearing a pair that my sister Kath knit for me. Your fingers are free, there's a nifty thumb-hole, the non-finger parts of your hands remain warm, and you can tuck your fingers up under the wool if you need to warm them up. Wearing the mitts is no impediment whatsoever to operating keyboard or mouse.
But you may not have a sister who can knit your a pair of mitts. Or you may not have your mitts with you at all time. In that case, you can:
Blow on your fingers. This is the classic old-time, completely portable, always available cure for cold fingers.
Rub your hands together. This is another one of those never in style, never out of style, 24/7 high-availability solutions for cold fingers.
You may be thinking here that I am overlooking people who don't have fingers to blow on, or hands to rub together. But, I submit, those folks have probably got bigger problems than cold mouse hand.
To continue, a couple of other solutions to cold mouse hand:
Put your hands between your legs. Once again, this has the benefit of portability, availability, and ease of use. It's practically impossible to have operator error here, by the way. (Alternative approach if putting your hands between your legs seems too, ah, weird: put them under your arms.)
Wrap hands around mug containing your hot liquid of choice. Although sometimes I do cocoa, mostly I do tea. Coffee, of course, would also work, as would, I suppose, hot buttered rum.
There is, of course, a reasonably high tech solution to the scourge of cold mouse hand, which works with laptops, and that's to put your hand underneath the laptop, where it will come in contact with the heating pad that is your computer. (Watch out for burna-burna.)
So chalk it up to Yankee ingenuity, growing up with Depression era parents, or whatever you want to call it, but I do believe there are any number of ways to take care of cold mouse hand. And it does seem to me that a heated mouse pad is one of those solutions in search of a problem.
That said, if they come up with something for cold nose….
Labels: consuming, interesting business