Of course, we're really not talking literal cat's pajamas here.
Come on, who'd pay $500 for a pair of PJ's, let alone for their cat?
Why, my last pair of PJ's – purchased in Filene's Basement – cost me somewhere between twenty and thirty bucks. Admittedly, you do get what you pay for, and those cotton pants shrunk up from ankle- to mid-calf length the first time I washed them. Which is okay for summer PJ's, but which I might not like come winter.
Pre-shrunk or not, if I had a cat – and that in itself is a big if – I wouldn't pay more for cat's pajamas that I would for human pajamas. And I'm betting that most folks feel the same way.
No, if you're going to spend that kind of catnip on pet clothing, you're going to get a really nice taffeta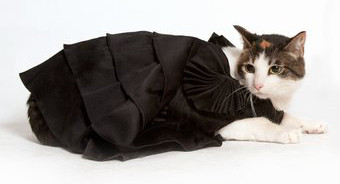 outfit, nice enough to be worn, I'd say, to a formal, black tie, evening wedding in a swank hotel – if your kitty-kat were fortunate enough to be invited or maybe even play a role (e.g., flower girl or ring-bearer). So good that women (and, apparently, females of other species) can wear black to a wedding these days!
I'm not 100% opposed to doing a little pet dress-up. I'm all in favor of bandanas, a change of collar, and even the odd Santa hat around the holidays. I could even justify a sweater or boots for inclement weather. But I don't know if cats or dogs really need or want fancy dress clothing.
Isn't one thing that's so cool about our furry friends is that they look pretty darned good in their birthday suits (as long as they don't have mange and/or as long as they're not a hairless variety of animal)?
If you're feeling compelled to splurge on your kitty-cat, this dress is on offer at Opening Ceremony, a shop for fashionistas with a location in NYC. And you can also buy matching kit for yourself. I'm not their demographic – human or pet – but they do have a lot of cute stuff. It's all 40/40 of course: designed for someone 40 years younger and 40 pounds lighter. (That's on the human side. I don't want to do the math vis a vis me and a cat.)  I don't, however, know if I'd want to wear something by a designer called Vena Cava. (Munging around a fashion site also led me to a designer called Acne, and a store in San Francisco named Acrimony. Oh, yes, I do all my shopping for Acne at Acrimony.)
In truth, even when I was 40/40, I wasn't exactly fashion forward. And anything fashion forward-y I did buy was likely scooped up at Filene's Basement, where there were no haughty, imperious sales people staring me down for having the effrontery to darken their door wearing a pair of Levi's and Dr. Scholl's sandals.
Nonetheless, I can and will acknowledge that I like some of the items available at Opening Ceremony.
And I absolutely love their take on their name:
Opening Ceremony appropriates the mission statement of the modern day Olympics from the founder, Baron Pierre de Coubertin. In 1896, he transformed what the Greeks had created into a modern day business venture. The Olympics were founded under the guise of creatively merging sports, business, and global participation.  Opening Ceremony takes from this foundation and applies these elements towards fashion.
I have no idea whether Baron de Coubertin actually had dollar signs – or drachma signs, or sous signs – in his eyes when he reinvented the Olympic Games. But, for all the pious hoo-hah that swirls around the Olympics, I'm guessing that Opening Ceremony got this one right.
What I'm not so wild about are these men's shorts from loden dager, which/who:
…delivers those pieces you want to wear day after day. committed to a design aesthetic of "inconspicuous decoration," the brand is equal parts adventure and restraint, resulting in an impressive array of instant, enduring favorites
Maybe it's just me, but those shorts don't whisper "want to wear day after day" into the ear of any of the men I know, and I'm including at least one NYC hipster in there.
They are marked down to $123 from $245, if you're the kind of guy who goes in for the codpiece/diaper look.
------------------------------------------------------
Source of original article on the dress-up outfits for kitty-cats: HuffPo, by way of my sister Trish.