The Messy Business of Surrogacy
It is certainly understandable that people will go to great lengths to have a child, and surrogacy is one option that's increasingly available to the infertile.
We've all heard the heartwarming stories of the sister-mother-friend - or, more weirdly, a plain old "do gooder" - who's lent her uterus so that someone can have a baby. But, while I'm sure it's been broken on many an occasion, in the U.S. there's a law that makes womb-for-hire illegal. Not so in India, where women can make $12K - $30K for acting as surrogates. And business is baby booming - to the tune of an estimated $445M per year. (Source: CNN.)
"Cheap mothers are available here. There is so much poverty. ... It's employment for them," says Dr. Sadhana Arya with India's Arya Hospital.

"You have treated the surrogate mother like an object, used her as a factory, produced something, given money for it."

But, she says, the final product "is a live child."
Most of the time it works out for the largely Japanese and American couples who take advantage of India's womb-to-rent business.
But, as is inevitable when human life is commodified to this extent, where not only is the "final product" a "live child," but the live child is a product, there's all sorts of opportunity for bad things to happen.
The current case in the news is one of buyer's remorse on the prospective mother's side.
A Japanese couple - using his sperm, and the egg of an anonymous donor - contracted with an Indian woman to carry the child.
Somewhere during those 9 months, the couple got divorced, and the mother to be decided she was a mother not to be. She didn't want the baby anymore.
The father still does, and the problem here is that under Indian law, a single man can't adopt a baby girl.  (The baby's grandmother also wants the child, and she's on the scene as well.)
Easy to trash-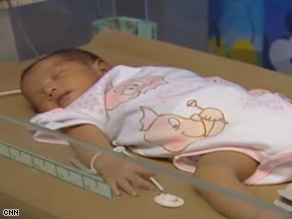 talk the woman who decided she didn't want the baby after all, but the entire setup - donated egg, surrogate mother - certainly allows for the a 'hey, not my baby/not my problem' attitude to develop. There's no - literal - skin of hers in the game.
But it seems as if the ex-wife could have made life easier for the baby's father, but - according to the article I saw - didn't want to get involved.
Well, you should have thought of that before you agreed to the whole thing.
Meanwhile, the baby has been sick, the father had to go back to Japan (he's a physician with patient obligations), and the new grandmother is hoping that everything gets cleared up before her visa expires.
Uneasy about how the baby was created, she comes to the hospital to cradle her granddaughter day and night, and has become so attached, she says, she cannot imagine going home without Manjhi.

"I am very worried and stressed. Why can't they let her father take his child?" the grandmother says.
It looks like this one will get straightened out - international bad publicity has a way of doing that - but there are no doubt plenty more stories out there that are variations on this theme.
Surrogacy is a messy business, and with scientific and technology breakthroughs continuing apace, we're no doubt going to see far worse when it comes to confusing reproduction with production.
Labels: culture, holidays, interesting business